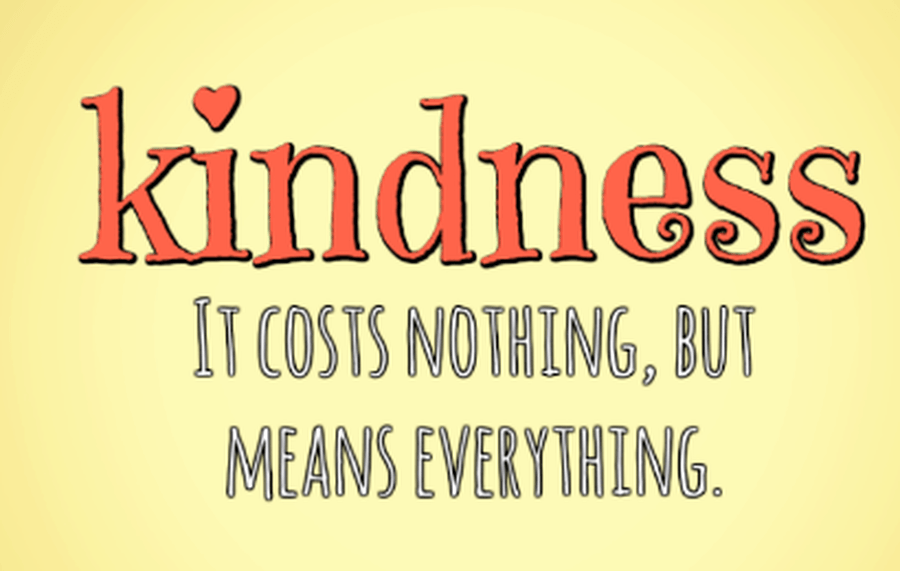 Home Learning Week 7 (18.05.20)
This week is Mental Health Awareness Week. During the week I would like you to perform acts of kindness whenever you can, no matter how big or small. The photo collage some of you made last week gave me the biggest smile! You will be amazed how one of your smiles can simply make someone feel better! Please share your acts of kindness either by sending me a photo or posting a message on our Guestbook section on our class page.
Click here for some acts of kindness ideas. How many can you complete?
Spellings
Conjunction focus (joining words): and, but, so, because, there, until, when, while, but, or – write your own sentence using a conjunction to extend. E.g. I went to the shop because I had to buy some milk.
Maths – break the lessons up across the week.
In Year 1 children should recognise, find and name a half as one of two equal parts of an object, shape or quantity. This week we are introducing finding a half using objects and shapes.
1) Watch this BBC Bitesize video first to introduce a half.
2) Click here to open a PowerPoint showing how to cut shapes in half. When it opens into a PowerPoint document press 'Enable editiing' and then press the f5 button. This makes the presentation appear full screen and will be interactive for your child to join in.
3) Click here to design your own pizza! Draw a line horizontally or vertically on the pizza templates to show 2 halves. Look at how many food items are next to each pizza and draw them again, half on one side and half on the other. E.g. if there are 6 pepperoni pieces make sure that you have 3 pepperoni pieces on one half of the pizza and 3 pepperoni pieces on the other. Try the colouring page after (Page 3).
4) Can you find anything in your house that you can cut in half? This could be food/vegetables, leaves,/stones from your garden, Lego/toys. Be creative! I would love to see some maths related photo's this week!
Complete MyMaths Fractions 1-OW. A great visual resource to support your child's halving understanding.
English
Reading (15 minutes a day): An exciting T-Rex reading GAME! Click on any sound and read the yes or no question aloud before clicking the tick or the cross.
Also continue to read books from Oxford Owl Select books from your coloured book band to match your reading level (check your child's reading book in their book bag to know their colour).
Writing/History (30 minutes a day):
For the next two weeks I would like you to start writing a diary of your daily life during lockdown. You only need to write 2-3 sentences each day. This diary will become a little piece of History and remind you about what life was like during the Covid-19 outbreak. Click here for a diary template you can print out. Write your sentences and draw a picture every day (an adult can help you.) If you do not have access to a printer simply write your diary on a piece of paper. Just remember to write the new day and date each time you add another entry about your daily life.
Phonics: Complete the PhonicsPlay games for 20 minutes a day. Remember to use the Username: march20 and Password: home.
Science/Geography/DT:
Hello Year 1! I was SO impressed with your efforts from the dinosaur artwork last week so I have created a Science, Geography and DT task for you this week!
Do you know what happens when you mix vinegar with bicarbonate of soda? It causes a chemical reaction that produces lots of foam! CLICK HERE for instructions to try out your own chemical reaction, making a foaming dinosaur! Remember to take photos and send them to us – they really do make us smile! Miss McArdle.
OH NO! It seems as though this Carnotaurus is LOST and a long way from home! You need to design a map of your house, using a key to help the dinosaur find his way around. CLICK HERE for my map example to help you. Can you remember where Carnotaurus was from? Why don't you pick another continent and see what dinosaurs lived there using THIS MAP.
PE: I have set two tricky PE challenges this week. You have to complete the activity in just 60 seconds which means you have to be super fast! Try the Sock challenge activity and the Clap and Catch activity below. Remember you are resilient! Do not give up the first time, keep practicing to beat your score. Send a video of you attempting the challenge or a photo! If you try this, Miss Lahera will video her attempt too! Let's move together!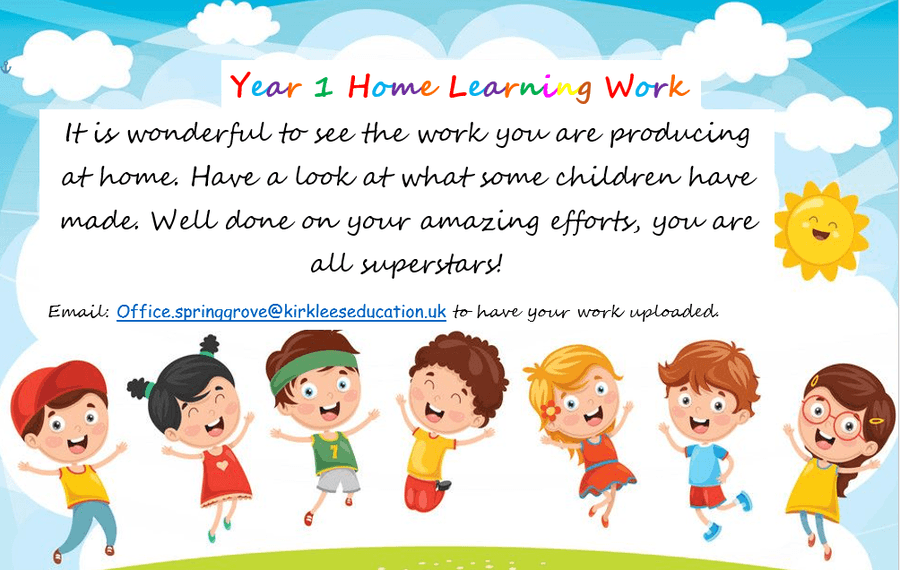 GALLERY
Click on the photo to enlarge and scroll through to find your work. Have a look at what your classmates have been busy creating too.
Routine is important for children, here is a suggested timetable of how a day could be structured.
LETS GET EXPLORING & 30 DAY LEGO CHALLENGE
Make learning fun and enjoyable! Below are some practical activities which develop Science, Maths,English, reading and writing, investigation, constructing and observational skills in many different ways. These can easily be adapted to use items in your home.
How many can you complete?
Year 1
I would love to hear from you
If you have anything you'd like to share about what you're doing at home or what you're enjoying please let me know by using our new Guestbook. This could be your favourite activity you've completed so far, an interesting fact that you've found out or you can ask me a question. Practise your typing skills or ask your parents
to help you.
Comments (10)
Show Comments
Mrs Burgess
(less than a month ago)
I just wanted to say how beautiful the photo montage that some of you have created with your families. It really made me smile too. Thinking of you all and hope that you are keeping well.
Miss Lahera
(less than a month ago)
Replying to Inaaya Yasir: WOW!! I have received all of your work today Inaaya and I have a very big smile on my face. It is wonderful to see how hard you are working at home. I loved your story writing, facts about flowers and your VE Day work. Well done, keep up the good work. I miss you too. Miss Lahera
Inaaya yasir
(less than a month ago)
I have learnt about VE day. I miss you.
Salsabil wassam
(less than a month ago)
hello miss lahera I have been doing lots of activities at home. I made captin tom moore a birthday card and me and my brother have been doing the lego challenge everyday. We have also been doing exercise and playing outside. I have been doing my phonics with my mum. My mum tried to send pictures in email but they are to big and she said she will print them and i can bring them to school when we come back. I also made the nhs a card and a rainbow. We do lots of reading and i practice my spellings at home. I have also made a weather chart and have been baking with my mum. I made chocolate cornflake clusters for easter. I also decorated my easter basket with fake grass and chicks and decorated an egg. I have so much to tell you when i get back.
Salsabil wassam
(less than a month ago)
dear miss lahera You are the best teacher. I am going to get you some flowers. You are so amazing and i cannot wait to come back to school. I have been doing lots of activities at home.
Miss Lahera
(about a month ago)
Hello Zaynab, Thank you for your message. I miss you too. Well done for working so hard at home, I enjoyed speaking to you on the phone and hearing about the lovely activities you have been doing at home. Keep smiling!
Miss Lahera
(about a month ago)
Hello Summer, It sounds like things are very busy in your household. I enjoyed speaking with you on the phone today and hearing about your craft making and baking - brownies are my favourite! I am glad you are enjoying the work online and having fun with your family. Good luck with your telescope. Remember to look for the stars and moon tonight. Miss Lahera
Zaynab Amjad
(about a month ago)
Hello Mrs Lehera I really miss school. I have been doing my homework with my daddy, I have enjoyed playing outside in the nice weather,
Summer Ali
(about a month ago)
I am enjoying baking brownies and cakes with my big sister and also doing arts and crafts activities with my brother. I also love doing PE with Joe Wicks! My brother and I also help our mum and big sister with the cooking by chopping some vegetables.
Summer Ali
(about a month ago)
Hi Miss Lahera and the rest of my class! I just wanted to say I hope everyone is okay during the lockdown, and I miss you all! Thank you Miss Lahera for setting us plenty of work to do so that we're not bored or demotivated during the lockdown! Can't wait to see you all soon :)
We were very excited to visit Tolson Museum to see all of the different types of vehicles as we have been learning about old and new transport. We went on a 'mystery hunt' to find all of the interesting vehicles around the museum. We particularly liked the old bus and rung the bell! We chose our favourite transport and sketched in our Art books before making a collaborative piece of Art using pens, black felt tips, coloured pencils and graphite pencils of everything that we could see.
As part our of Art and DT project we have learnt how to observational draw using graphite pencils to shade for colour. Following this, we each made a 3D model of a vehicle using bottle tops, egg boxes, cartons, straws, plastic boxes and cardboard and evaluated our design by thinking about what was good about it and how we could make it stronger.